Not a Member?
You must be a member to make reservations for events, obtain directions, or download the monthly newsletter Dual-Life. Joining our private social community is easy. Simply complete the application for membership online. We will call you to follow up with additional questions you may have before we assign you a membership number. We look forward to meeting you soon!
Club History
Our club was founded by a woman in July 1999 (she has asked to remain anonymous). The name of the club at that time was The Black Key Club, LLC. The club was located in a Victorian home in a smaller city in Rhode Island. Shortly after opening, the club was moved to a commercial location in Providence and then again to a mixed use (residential/commercial) property. In February 2001, the owner sold the club to two of the members.
The new owners moved the club to commercial-only location in July 2001. In December 2004 the club was notified of a West Coast business that had secured a trademark for a portion of the name (Key Club), and the name was shortened to simply B.K.C. In November 2005, there was a peaceful buyout of the club by one of the partners. In late June 2006, we restructured and expanded. The existing club for sexually adventurous adults became Choice Nightclub.
In August 2008, the building was unexpectedly sold, and the club was forced to temporarily close. A group of dedicated members decided to continue the traditions of the club. After months of searching, we found our new home, and began the build out project of an entirely new space. Rooms are now decorated in warm tones and feature low lighting, leather furniture, warm hardwood floors, and oriental rugs. Our new club facility, while continuing to be a work in progress by our members, is sexy, elegant, comfortable, and warm.
In January, 2009, we opened our new space under a new name, Choice Social Club, as we felt the new name better reflects how we have evolved over the years. Choice Social Club is entirely member-driven, and reflects the leadership of a few key visionary members, as well as the cooperative efforts of many on a smaller scale. We have incorporated dozens of suggestions made by all levels of members over the past many months, and are always happy to hear what you have to say.
Upcoming Events
Saturday May 25th — Sexy PJ's and Lingerie Night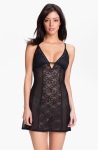 Come make yourself at home and show us your favorite nighttime attire! Those silk boxers and teddies deserve to be worn for more than just bed. But for those of you who prefer to sleep in the nude, just leave your robe at the door.