Not a Member?
You must be a member to make reservations for events, obtain directions, or download the monthly newsletter Dual-Life. Joining our private social community is easy. Simply complete the application for membership online. We will call you to follow up with additional questions you may have before we assign you a membership number. We look forward to meeting you soon!
Guest Policy
Guests
Guests are individuals who do not have an active membership and have not attended an event within the past 12 months.
Members may make reservations to bring guests while making corresponding reservations for themselves and must accompany their guests. Members are responsible for the conduct of their guests during the event and ensuring they understand the private nature of the club in accordance with our membership agreement.
To make a reservation for your guests, please include their full legal name (that matches a valid photo id) when making your reservation online.
Guests must present a valid photo id containing their birthdate to be admitted to the club. Guests are required to attend a tour of the club conducted by the staff. Tours are conducted shortly after the doors open for the event unless special arrangements are made prior to arriving.
Pricing
Pricing defaults to Premium Member rates regardless of the membership level bringing the guests. Typically this will be $60/couple, $100/male, and $5/female. If you are reserving as a single, but are bringing a guest as a date for the evening, we will apply couple's pricing at your level of membership. When attending as a couple, we expect you to present as a couple for the evening and reserve the right to require you attend as two individual single's for admission pricing. For example, the female half of a basic couple makes a reservation by herself and brings a male guest for the night. In general, we will treat this case as a couple's reservation. The same would be true if a single female made the same type of reservation.
Cancellations
If your guests cannot attend, please let us know as soon as possible just like you would for your reservation since this helps us with gender balancing of events.
Referral Incentive
We will credit the referring member one month of their current membership level for any guest who subsequently purchases an annual membership.
Upcoming Events
Saturday May 25th — Sexy PJ's and Lingerie Night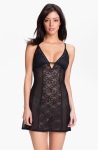 Come make yourself at home and show us your favorite nighttime attire! Those silk boxers and teddies deserve to be worn for more than just bed. But for those of you who prefer to sleep in the nude, just leave your robe at the door.